Progressive group task is the first outdoor task of the GTO. In this whole group has to tackle the given obstacles. As the name specifies, in PGT obstacles are placed in progression and as the group proceeds from one obstacle to another, the difficulty level increases. PGT works as a great source in providing candidate's personality. In PGT the GTO wants that the candidate should apply his general intelligence to complete the task. PGT helps GTO to unearth following personality traits of the candidate: -
INITIATIVE, COURAGE ,STAMINA, EFFECTIVE INTELLIGENCE, REASONING ABILITY, ORGANISING ABILITY, POWER OF EXPRESSION, SOCIAL ADAPTABILITY & CO-OPERATION.
RULES FOR PROGRESSIVE GROUP TASK.
---
Candidate must strictly adhere to the following rules while crossing the obstacle.
a. Out of Bound Rule
The ground between the start and finish line is out of bounds for both human beings and the helping material.
b. Color Rule
White: Anything painted white can be used by both human beings and helping material.
Red: Anything painted red is out of bound for everything.
Black: It has no significance.
Green /Blue/Yellow: Only human beings can touch it and is out of bound for helping material.
c. Group Rule
Unless all the members of the group reach the finish line of previous obstacle, candidate cannot proceed to the start line of the next obstacle, which means that at any point of time the whole group must be tackling only one obstacle.
d. Distance Rule
Candidates cannot jump across between two points having a distance of more than four feet. Candidates have to bridge the gap by using the helping material provided to make it less than four feet. This distance restriction is applicable horizontally, vertically and diagonally.
e. Infinity Rule-
The obstacle is bounded by the set of parallel lines called the Starting line and Finishing line which enlarges till infinity and the area between the two is declared as out of bound. However, the group by any means should never try to delay or take any side step to move beyond these lines.
f. Rigidity Rule-
Two rigid helping materials cannot be tied to each other with the help of a rope, but they can be placed one at the top of other as long as they are not tied.
g. Helping Material Rule
The rule states that any number of helping materials can be tied separately to any number of structures and the joining of ropes is permitted.
Images of Helping Material
WOODEN PLANK 2. WOODEN BALLI 3. ROPE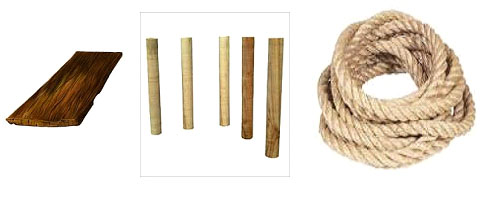 ---
TOP TIPS FOR SUCCESS IN PROGRESSIVE GROUP TASK.
---
A candidate must be a constructive member in his group.

He must support the group with ideas if other members have taken lead.

A candidate should never criticize, shout and break the rules.

A candidate should never give up. He must keep trying to solve the obstacle with his group mates.

​

---
Useful Links:-
1. GROUP DISCUSSION
2. GROUP PLANNING EXERCISE
3. PROGRESSIVE GROUP TASK
4. HALF GROUP TASKS
5. COMMAND TASK
6. LECTURETTE
7. INDIVIDUAL OBSTACLES
8. GROUP OBSTACLE RACE/ SNAK RACE
9. FINAL GROUP TASKS
---
For better understanding, you can ​click here to watch the video of the Progressive Group Task.
Video Credits-D.Vijaya Kumar Kumar